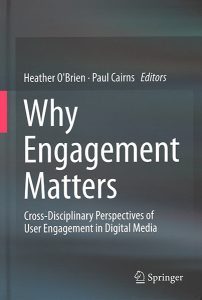 Edited by Heather O'Brien and Paul Cairns
UBC iSchool Associate Professor Heather O'Brien publishes new book on user engagement.
What do we mean when we say that our goal is to engage users with technology, and what are the benefits of doing so? How we define UE conceptually is indicative of the larger set of values, contexts, and disciplinary perspectives that inform human relationships with technology and how we operationalize, measure, and design for human-computer experiences.