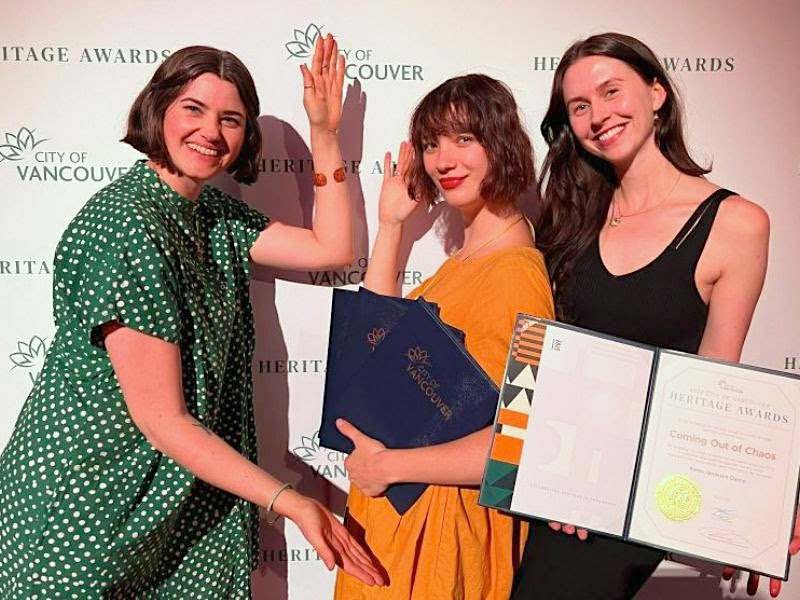 On behalf of Karen Jamieson Dance (KJD), UBC iSchool alumni Emma Metcalfe Hurst (MASLIS '23), Charlotte Leonard (MASLIS '23), and Clare Asquith Finnegan (MLIS '16) received an Award for Living Heritage from the City of Vancouver on May 17, 2023 for the oral history and community archives project, Coming Out of Chaos: A Vancouver Dance Story.
As Creative Director, Emma Metcalfe Hurst developed Coming Out of Chaos with invaluable assistance from Charlotte Leonard during their time as UBC Co-op students with KJD. Clare Asquith Finnegan provided generous support and guidance throughout the course of the project as the Archives Manager of KJD.
Coming Out of Chaos: A Vancouver Dance Story documents a specific moment in Vancouver contemporary dance history and its many interconnecting threads through time. The aim of this project was to preserve and bring awareness to Vancouver's rich dance history using valuable primary source materials to tell a story from various perspectives. Coming Out of Chaos has been recognized for its local significance and unique approach to storytelling through the use of different archival materials and oral history interviews woven into four chapters. In 2022, Coming Out of Chaos was presented at the Art Libraries Society of North America conference in Chicago, the Association of Canadian Archivists (ACA) conference at UBC, and the ACA@UBC Student Symposium.
For more information on this project, visit the Coming Out of Chaos website.