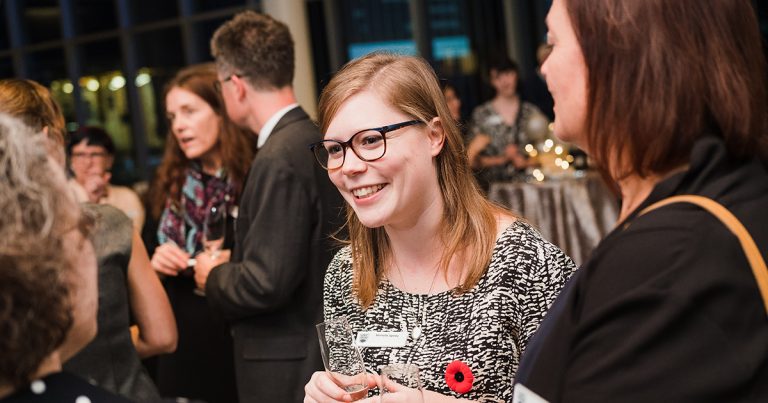 Last week the iSchool celebrated with the third annual awards gala. It was a great event with music, food, drinks and celebration of student and alumni award winners.
Christina de Castell, Chief Librarian at Vancouver Public Library (VPL), highlighted storytelling and working with communities in her keynote. "Libraries can build a sense of belonging by supporting the gathering and sharing of stories," said de Castell as she shared examples from projects at VPL.
The iSchool gives out more than 35 awards annually, to current and graduating students. More than 20 students were on hand to receive their award certificates, with several students receiving multiple awards.
iSchool alums Sandra Singh (MLIS '97) and Kathie Shoemaker (MACL '06) were awarded the Distinguished Alumni Award. The Distinguished Alumni Awards recognize exceptional accomplishments by our alumni at the local, regional, national or global level. Sandra Singh has a distinguished career in many leadership roles at UBC, VPL and the Canadian Library Association. Fellow alum Kathie Shoemaker has devoted her career to the creation and teaching of children's literature, and is continuing to leave a mark on the iSchool community as an adjunct professor in the MACL program as well.
iSchool adjunct professor Carolyn Petrie received the Mary Sue Stephenson Award for excellence in adjunct teaching. The award recognizes the impact of adjunct professors on the community, and was given to Carolyn based on her glowing student evaluations this past year.
Congratulations to all of the award winners!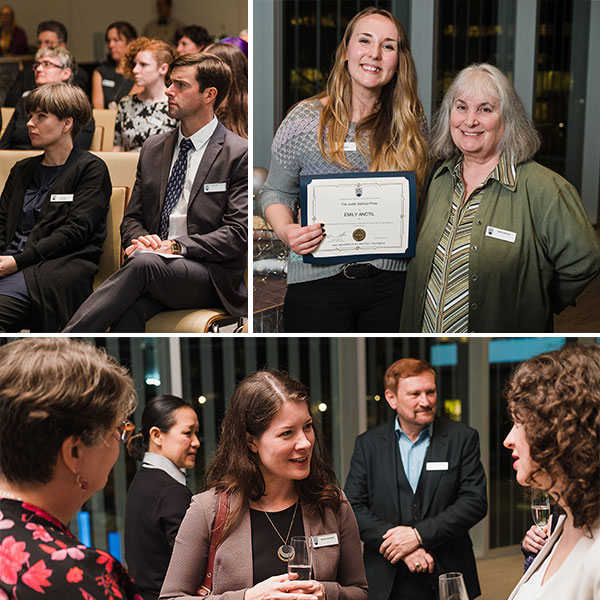 2018 student award winners
Entering
Fraser Valley Regional Library Scholarship:  Dylan Schroeder
H.W. Wilson Scholarship:  Marina Botnaru & Ioana Liuta
Richard David Hughes Scholarship:  Reese Irwin
Sheila Egoff Scholarship in Library and Information Studies:  Lucita Villarreal
Stanley T. Arkley Scholarship in Librarianship:  Margot (Xiaoyuan) Chen
UBC Library, Archival and Information Studies Alumni Samuel Rothstein Scholarship:  Kristin Simmons
Continuing
Amy Hutcheson Scholarships in Library Services for Children:  Jenna Grose & Michaela Kryger
Anna Ruth Leith Memorial Scholarship in Science and Health Information:  Monique Grenier
Anna Ruth Leith Memorial SLAIS Scholarship:  Allison Jones
Dorothy Blakey Smith Memorial Scholarship:  Georg Gaenser
Edythe Webster Scholarship in Library and Information Studies:  Jennette Chalcraft
James Fraser Memorial Prize:  Alexandra Alisauskas
Margaret Ferguson Smith Memorial Scholarship:  Wanda Power
Ronald Jobe Children's Literature Scholarship:  Shanleigh Klassen, Elizabeth Leung & Corey Liu
Terry Eastwood SLAIS Award:  Alexandra Alisauskas
UBC AIS Alumni Lois M. Bewley Scholarship:  Amanda Geofroy
UBC AIS Margaret Burke Scholarship:  Allison Jones
Zainab Jenny Kanji Memorial Award:  Amber Dierking
Graduating
AABC Mary Ann Pylypchuk Memorial Prize:  Michelle Spelay
Beverley Maureen Becker Memorial Prize:  Simon Robins
Brock Family Award:  Samantha Meier
C. William Fraser Prize:  Terri McKellar
Friends Richmond Archives Prize:  Joanna Stadnik
Gordon New Memorial Prize:  Michele Jennings
Harold Naugler Memorial Prize:  Stuart Hill
Judith Saltman Prize:  Emily Anctil
Ken Haycock Award in Library and Information Studies:  Aleksandra Migorska
Master of Arts in Children's Literature Top Graduate Student Award:  Russell Hirsch
Neal Harlow Prize:  Emily Hector
Richard Hopkins Award:  Rachel Bickel
Roy Stokes Medal in Archival Studies:  Devon Mordell
Ruth Cameron Medal for Librarianship:  Michele Jennings
Samuel Rothstein Award:  Michelle Spelay
Stanley and Rose Arkley Memorial Prize:  Meaghan Smith
Willard Ireland Prize:  Michelle Spelay
iSchool MAS Co-op Student of the Year:  Emily Hector
iSchool MLIS Co-op Student of the Year:  Allison Jones