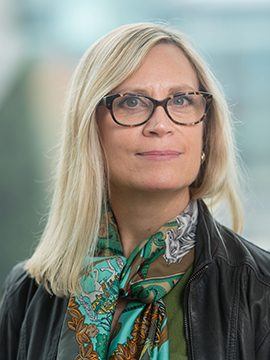 UBC iSchool professor Victoria Lemieux has won ARMA International's Britt Literary Award for her article, "Blockchain recordkeeping: a SWOT analysis" which appeared in the Nov/Dec 2017 issue of Information Management magazine.
This award, which was instituted in 1967 in memory of John F. X. Britt, one of the early pioneers in the modern information management profession, is given to the author of the best feature article appearing in Information Management magazine during the previous fiscal year. ARMA International, an international association for information management profession, adjudicates the award annually. Judges agreed that Lemieux's clear writing style and good choice of graphics enable readers to understand the technological aspects of a complex topic. They called it an enlightening and thought-provoking article that shows the promise of blockchain in recordkeeping, but also highlights the challenges that remain to be addressed in its use.
Lemieux is an associate professor at the iSchool, a Sauder School of Business Distinguished Research Scholar, and an adjunct associate professor of research at the University of Maryland.
Congratulations, Dr. Lemieux! Read the full article online.