UBC iSchool is proud to announce that Ariel Lee has won 'Best Poster' at Designing for People's 2023 CREATE Design Showcase!
Ariel Lee, an MLIS student who is also a part of the Designing for People (DFP) program, recently won Best Poster for her grad research project, "Reading Apps in the School and Home: How Parents and Children Perceive eBooks Differently", which was completed under the supervision of Dr. Eric Meyers. DFP's CREATE Design Showcase features posters, demos, and videos from graduate students whose research explores how human-centered design impacts the world we live in. This Showcase is the highlight of DFP's CREATE Grad Training Program, and is well attended by students, faculty, and industry/community partners; 2023 had 113 RSVPs to the event.
 Ariel's Abstract
Digital reading apps, such as Epic or Razkids, combine collections of online texts with tools that encourage different forms of literary practice. Targeted primarily to early grades (K to 3), these apps typically gamify the reading experience, offering teachers, librarians, and parents an engaging mode to deliver instruction to children through a fun experience.
This poster presents data from a preliminary University of British Columbia research study investigating children's use of reading apps and how it contributes to their literacy practice at school and home. Interviews were conducted with parent-child dyads and examined differences between parent and children perspectives on the importance and value of reading, preferences between print and ebooks, and parental understanding of data collection/information privacy in reading apps. All three participating groups were bilingual families, which revealed differences in user needs due to the multilingual makeup of the home.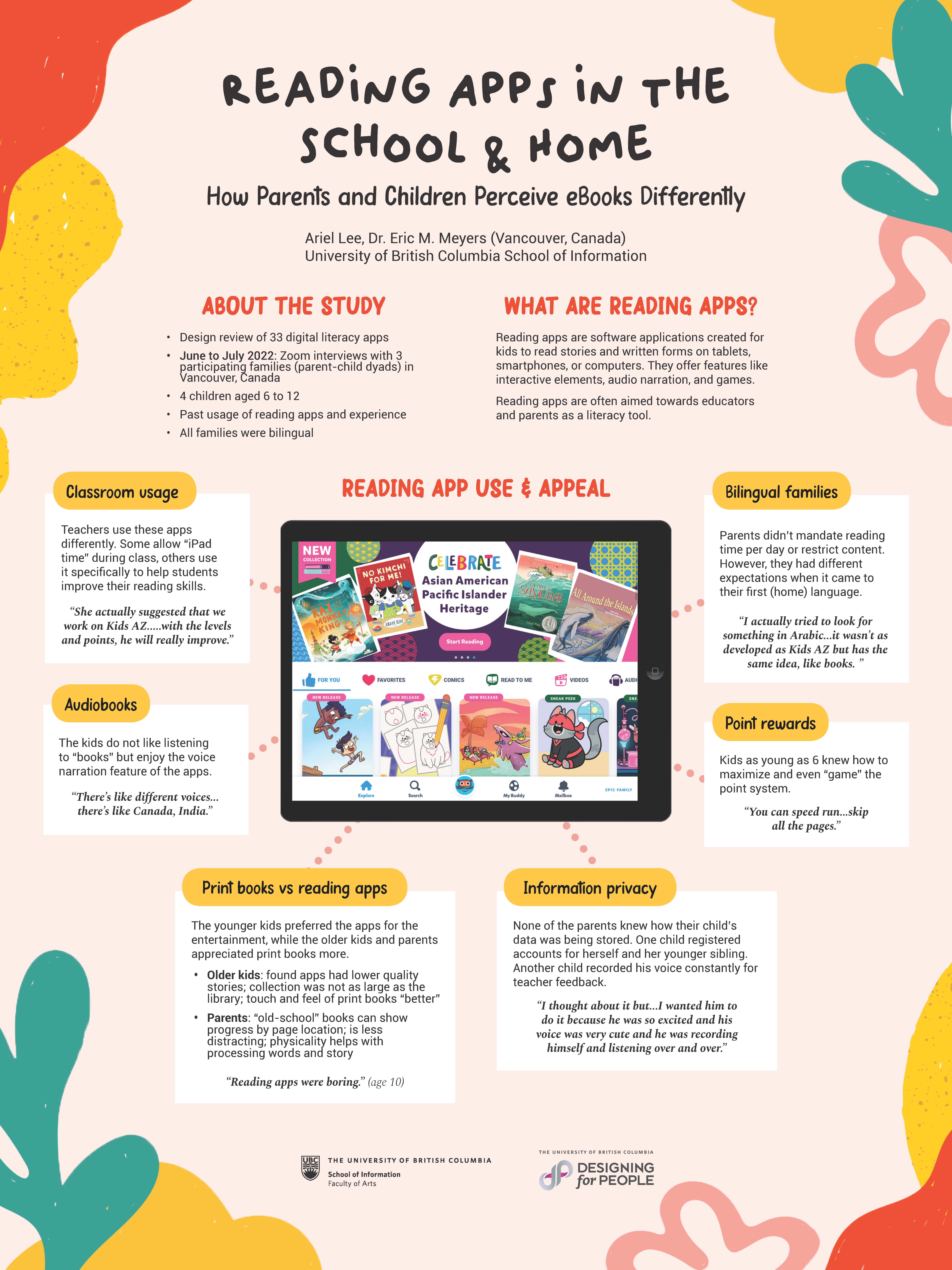 ---
Designing for People is one of several established Research Excellence Clusters at UBC. A network of design-thinkers, DFP accelerates creativity at the nexus of social and technical problem-solving, by promoting interdisciplinary teamwork and methods, finding new paths to societal impact through partners and community, and creating resources that are sharable by DFP researchers and partners.
A core component of the DFP is the CREATE grad training program – a unique, cross-disciplinary graduate training opportunity developed at UBC. Master's and PhD students from participating units across campus bring their disciplinary knowledge and work together in a variety of program elements including hands-on project experience with external partners, to develop research and professional skills and holistic design understanding.