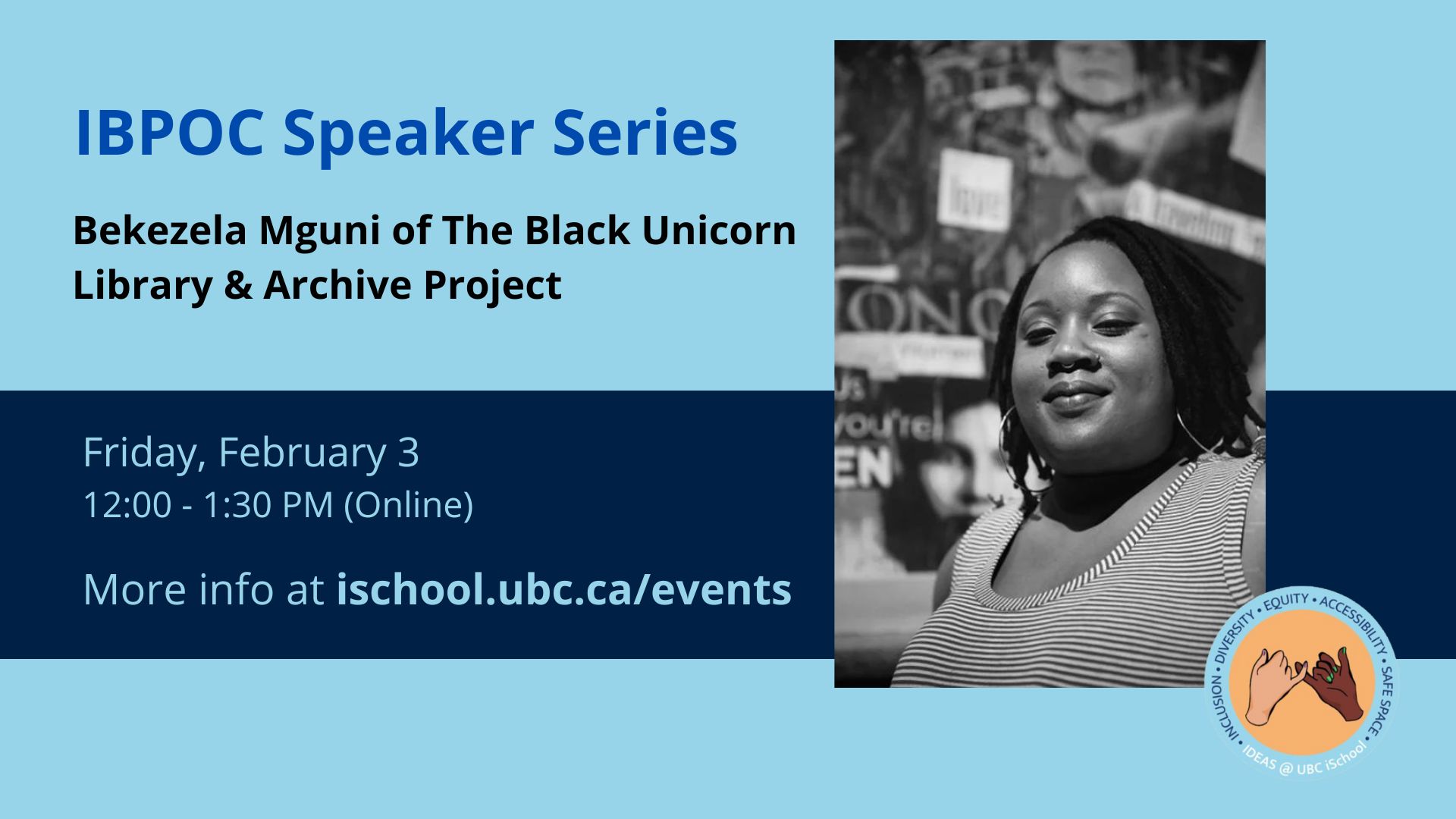 Friday, February 3
12:00 – 1:30 p.m.
Virtual
RSVP required (This event is reserved for IBPOC-identifying iSchool students)
Abstract
Please join IDEAS in this virtual event welcoming Bekezela Mguni, founder of The Black Unicorn Library & Archive Project, located in Pittsburgh. Bekezela will be talking about her journey within and outside the library profession, as well as the creation of The Black Unicorn Library & Archive Project. This event will be virtual and is reserved for IBPOC-identifying iSchool students.
Bio
Bekezela Mguni is a queer Trinidadian artist, radical librarian, and educator. She has over 15 years of community organizing experience in the Reproductive Justice movement and holds an MLIS from the University of Pittsburgh. Bekezela participated in the first Librarians and Archivists with Palestine delegation in June of 2013. She completed her first micro-residency at the Pittsburgh creative hub Boom Concepts and was featured in the 2015 Open Engagement Conference. She was a 2015-2016 member of the Penn Ave Creative Accelerator Program with the Kelly-Strayhorn Theater and launched the Black Unicorn Library and Archive Project.
The Black Unicorn cultivates libraries as sites of learning, possibility, and freedom celebrating the literary and artistic contributions of Black women, queer, Trans, non-binary, and gender-nonconforming people. Honoring the far-reaching influence, our storytelling has had on the lives of generations worldwide. She has also served as the 2016 Sophia Smith Archive Activist-in-Residence at Smith College.  Bekezela was selected as an Emerging Artist in the 2016 Three Rivers Arts Festival and won the Juror's Choice award for her visual artwork. She was a featured artist of the 2017 Activist Print Project, a partnership between, Artist Image Resource, BOOM concepts, and the Andy Warhol Museum.  Bekezela is a Boom Concepts studio member, a community space and gallery dedicated to the development of artists and creative entrepreneurs. She is currently an artist in residence at Artist Image Resource and serves as the Education Program Director at Dreams of Hope which affirms the voices and leadership of LGBTQ youth through the arts.
Registration
Please complete the following form to register for this event. You will receive an email confirming your registration. If you didn't receive it, please check the spam folder in your inbox. If you have any questions, please contact us at ischool.comms@ubc.ca.