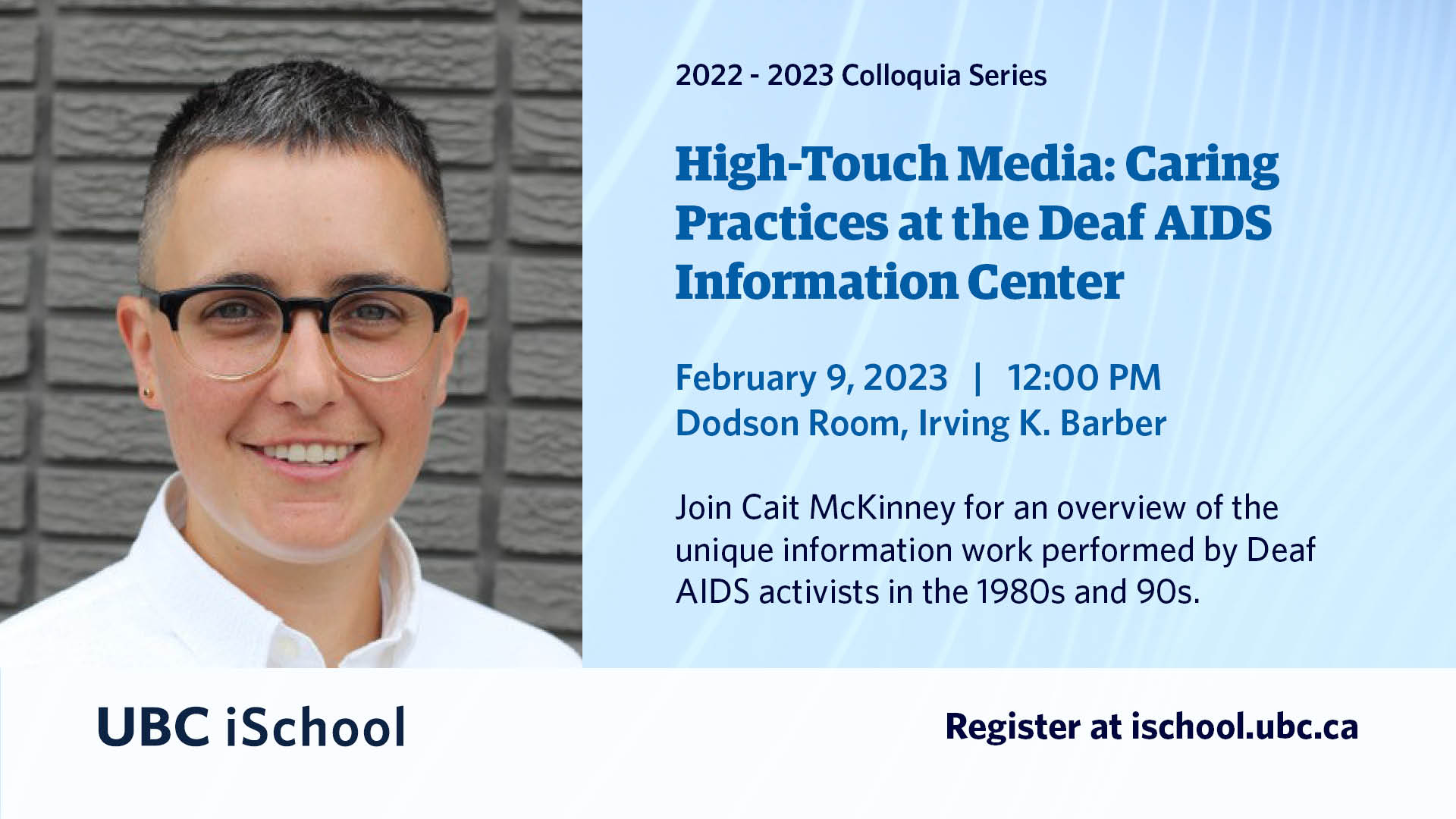 Thursday, February 2
12:00 – 1:00 p.m.
Dodson Room (Room 302)
Irving K. Barber Learning Centre
RSVP required
Abstract
This talk, based on research co-authored with Dylan Mulvin, frames the unique information work performed by Deaf AIDS activists in the 1980s and 90s. Deaf communities mounted a response to the North American AIDS Crisis that carefully blended face-to-face caring practices with mediated, culturally meaningful and accessible information by and for d/Deaf, HIV+ people. Crossovers between information, AIDS, and disability justice histories are under-documented and risk seeming minor. With this history, we show that this intersection is key to advancing knowledge of how HIV left an imprint on emerging information practices and how sexuality and disability factor in technological cultures.
Bio
Cait McKinney is an Assistant Professor in the School of Communication at Simon Fraser University. They are the author of Information Activism: A Queer History of Lesbian Media Technologies (Duke 2020), winner of the Gertrude Robinson Best Book Prize from the Canadian Communication Association and a Lambda Literary Award Finalist for LGBTQ studies. They co-edited (with Allyson Mitchell) Inside Killjoy's Kastle: Dykey Ghosts, Feminist Monsters, and other Lesbian Hauntings (UBC and AGYU, 2019) and a 2020 special issue of First Monday on HIV/AIDS and Digital Media (with Marika Cifor).
Registration
Please complete the following form to register for this event. You will receive an email confirming your registration. If you didn't receive it, please check the spam folder in your inbox. If you have any questions, please contact us at ischool.comms@ubc.ca.